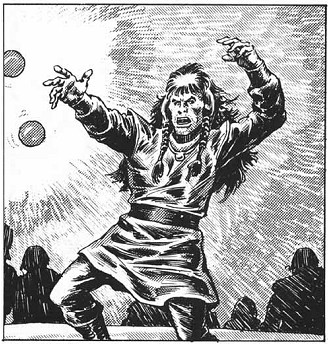 As I
recently mentioned
, I've been running James Raggi's the Grinding Gear for a small group. I've been running the module as a one-shot, which means that I've not had to insert it into an existing campaign -- giving me free reign on the setting. Obviously, it being a one-shot, the setting isn't that important, and hasn't played a huge role, but the vague background I've imagined is a weird fantasy-esque, early modern setting, with no demi-human PCs, no divine magic, and much more limited arcane magic than one typically finds in D&D.
This slightly atypical setting, combined with the fact that it's a one-shot (well, a two-shot now) means that I've been able to play around with a few ideas for new rules. I've already talked about the introduction of
mixed-class characters
and
firearms
, so the remaining (and probably most experimental) house rule is my system for fatigue-based spellcasting.
Regular readers will know by now that my favourite D&D-related pastime (well, joint favourite with actually playing the game!) is messing around with
new spells and rules for magic-users
! Something of a hobby in itself ;)
I've been mulling over ideas for some time on how one could simply (i.e. without having to rewrite everything!) adapt the D&D Vancian spellcasting system to give it more of a low-magic, dangerous edge. From what I've seen of the magic system in Dungeon Crawl Classics, that's kind of the vibe he's going for, but of course that's a very involved rewrite of the magic rules and all the spells, so not what I had in mind.
At first I was contemplating some kind of spellcasting roll, with the possibility of nothing -- or varying degrees of bad / weird side-effect -- occurring if the roll fails. In the end, however, I came up with something far simpler, with a nod to Fighting Fantasy. It works as follows.
Fatigue Based Spellcasting
In the standard system of magic, as presented in traditional D&D, a magic-user's spells must be memorized in advance and vanish from his mind when cast. Thus a spell-caster's puissance is measured by the number of spells which he can fit into his memory at once.
Using this alternative system of spellcasting, a magic-user does not need to memorize spells. It is assumed that once a magic-user has mastered the formula of a spell, he is able to cast it at will, simply by performing the required gestures and incantations. However, as a counterbalance to this freedom, each spell which is cast drains the caster's reserves, leading to a creeping fatigue and listlessness.
This fatigue is simulated by a hit point cost for each spell cast, depending on its level. Thus, as a magic-user casts more spells, his ability to react in dangerous situations, and to avoid serious damage or death, is reduced.
Spell level 1 2 3 4 5 6 7 8 9
Hit point cost
1 2 4 8 12 16 20 24 28
Hit points lost due to spell-casting are recovered in a slightly different way to normal. A magic-user's player should keep track of both his current hit point total, and the sum of points which were lost due to magic use. After a full night's rest, all hit points lost as a side-effect of spells cast are restored. On the other hand, hit points lost due to spell-casting cannot be restored by healing spells or magic items.
This system enables low level casters (especially those at 1st level) to cast more spells than in standard D&D, while higher level spells, due to their large drain in hit points, will be less frequently used.
Notes
The only problem I can imagine with this system, and a point which I'm rather unsure of, is that it makes a magic-user's maximum hit point total extremely important. A 1st level MU with one hit point would be unable to cast spells, for example, and a player who made consistently lucky rolls for hit points as his character advanced would be at a great advantage.
I've been using the standard spell progression chart to determine the number of spells a magic-user knows, rather than how many spells he can memorize. I've doubled the numbers on the chart, so a 5th level MU would know four 1st, four 2nd and two 3rd level spells. This nicely simplifies the question of how MUs learn new spells.
Likewise, I've allowed high INT to grant extra known spells, using the cleric chart for high WIS.
Using this system, a few spells might need re-levelling. For example, given that a 1st level magic-user could be able to cast three spells a day, sleep is probably too powerful for a 1st level spell. I'd move it to 2nd level.